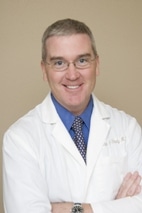 Hello, my name is Christopher O'Grady, and Pajaro Valley Medical Clinic is the name of my solo practice in Watsonville, which I opened in 2006. My primary training is in family practice, which involves the care of both children and adults. I also have additional training in geriatrics, which focuses on conditions common in the elderly. I see all my own patients, with coverage after hours provided by other solo family physicians in Watsonville. Although we can usually see our established patients the same day when necessary, there is sometimes a wait of up to a few weeks for new patient appointments. We use an electronic medical record, which includes a patient portal that allows you to communicate with myself and my staff online.
Training
Undergraduate
University of California, Riverside
Riverside, CA 1984
Medical School
University of Vermont
Burlington, VT 1990
Internship
U.S. Naval Hospital, Camp Pendleton
Camp Pendleton, CA 1991
Flight Surgery
Naval Aerospace Medical Institute
Pensacola, FLA 1992
Residency
Fort Collins Family Medicine
Fort Collins, CO 1996
Fellowship
University of Hawaii Geriatrics
Honolulu, HI 2005
I admit my own patients to Watsonville Hospital. For patients who wish to be hospitalized at Dominican Hospital, I use the hospitalist physicians there.
The office is open 8-12 and 1-5 Monday through Friday, except Wednesday afternoons when we are closed. If you call after 5 pm or on weekends, you will be given the phone number of the doctor on call should you have an urgent problem that cannot wait until the next day of business. Of course if you have an emergency, you should proceed directly to the nearest emergency room or dial 911, as appropriate.